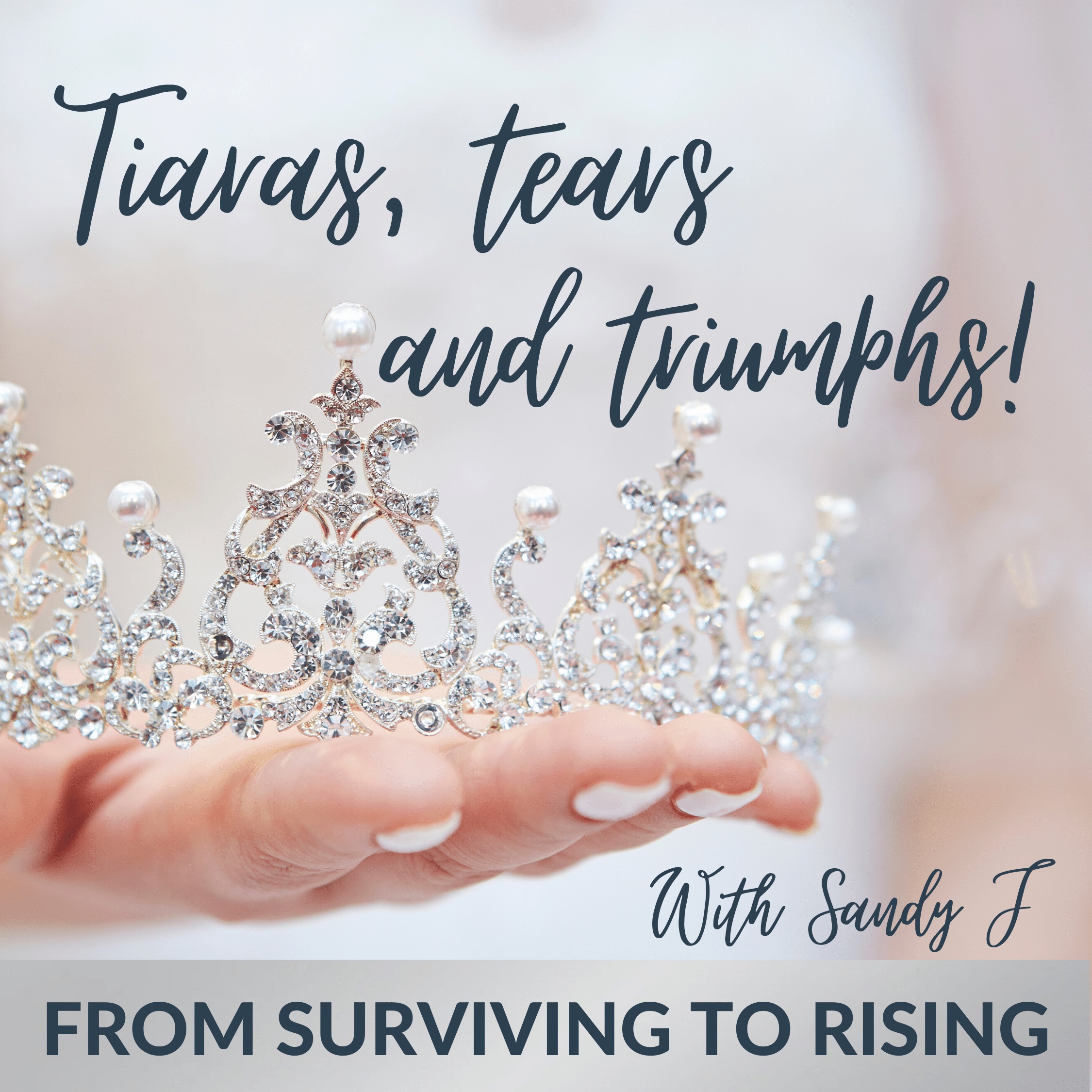 EPISODE NOTES RIDING THE STORMS AND SHELTERING
FROM THE STORMS IN LIFE FOR VICTIMS AND SURVIVORS OF ABUSE EPISODE
Get your copy of When Grace Found Me Volume Three
in Australia here
in USA here
in United Kingdom here 
Get your crisis support list here
Become a Patron of the Tiaras Tears and Triumphs Podcast here
Seek financial support in Australia to leave an abusive relationship here
There are so many women who find themselves in abusive relationships.
I was one of them.
This episode was created on my birthday and it holds birthday wishes for you. 
In this episode I share a sneak peek into my story, which is the first draft of my book which is in the works.
I also share links to purchase the latest edition of the When Grace Found Me Anthology, Volume Three, of which I am a contributing author.  This book is filled with real-life stories of women of faith. Each story is inspirational and there to help others feel less alone in the struggles they are facing in life. This book would make a very thoughtful gift for someone you know who may need to feel uplifted.
Links to purchase the When Grace Found Me Volume Three book are above.
Writing is a powerful tool of self-expression and is a wonderful way to communicate with others.
We all have stories to share.
I hope that my story encourages you to share yours.
Seek financial support in Australia to leave an abusive relationship here
If you are a victim or survivor of an abusive relationship and you would like some help and support, please don't suffer alone in silence. You can access a crisis support service list for Australia. For those outside Australia google domestic abuse free online counseling support services. 
If you would like to explore how to heal your heart, your head, and your hip pocket visit Sandy J Abundant Living & Keys to Success
Sandy works online via zoom face-to-face calls, which allows you the flexibility to work with her wherever you happen to be located and wherever you are comfortable to have private confidential conversations.
If you would love to get unstuck and you know deep down you will achieve far more by getting the support of a transformational coach, Sandy would love to help you get your life back on the right track.
Just use this link to book a discovery call to explore how Sandy can help you. Click here to book a time to talk with Sandy
TIARAS TEARS AND TRIUMPHS HOST SANDY JOHNSTON WEBSITE
If you want to fast track your journey to triumph over your trials, click this link 
ONLINE SELF-WORTH/NET-WORTH WELLNESS WORKSHOP
If you would like to participate in the next online workshop WOMEN'S EMPOWERMENT WORKSHOP - HOW TO INCREASE YOUR SELF-WORTH TO INCREASE YOUR NET WORTH, click this link 
WANT TO BECOME A PATRON OF THIS PODCAST?
Do your part with a caring heart. Patrons help this podcast to continue to help victims and survivors of abusive relationships.
If you would like to become a patron click this link here: 
Hope this interview inspires you to rise and shine.
Today's episode is proudly sponsored by the Women's Empowerment Workshop
This 3-day online workshop helps you learn how to increase your self-worth and your net worth.
Subscribe. Enjoy. Share. Sending love and light, Sandy J
CAUTION: If you feel unsafe at any time please STOP LISTENING. You can come back anytime you are in a safe place to listen to the rest of the Podcast. YOUR SAFETY is the most important thing to consider.
If you are in immediate DANGER call the Police.
NOTE OF ENCOURAGEMENT: If you are struggling with your mental health please reach out for support with some form of counseling, therapy, or coaching.  If you don't know where to start to find a counselor, a good place to start is to talk to your Doctor. There are also many online counseling supports now available. If the Support Person is not a good fit for you, try another and another, until you have one that is the right fit for you. And don't forget, I help women to heal and grow, and help them to meet their challenges head-on, to move towards a life they love. 
BEFORE YOU GO….
If you listen to the Podcast and you like it, please SUBSCRIBE, you will automatically be updated with new episodes as soon as they are available.
If you like the episode, please leave a REVIEW for other people to know that this has value.
If you know of anyone you think this Podcast might help, please SHARE it.
To get a COMPLIMENTARY DISCOVERY CALL, click this link 
Come join us to be a part of the Private Rise Up with Tiaras Tears and Triumphs Facebook Group click this link
Until next time, stay well and stay safe.
Sending you love, light, peace, and joy,
Sandy J