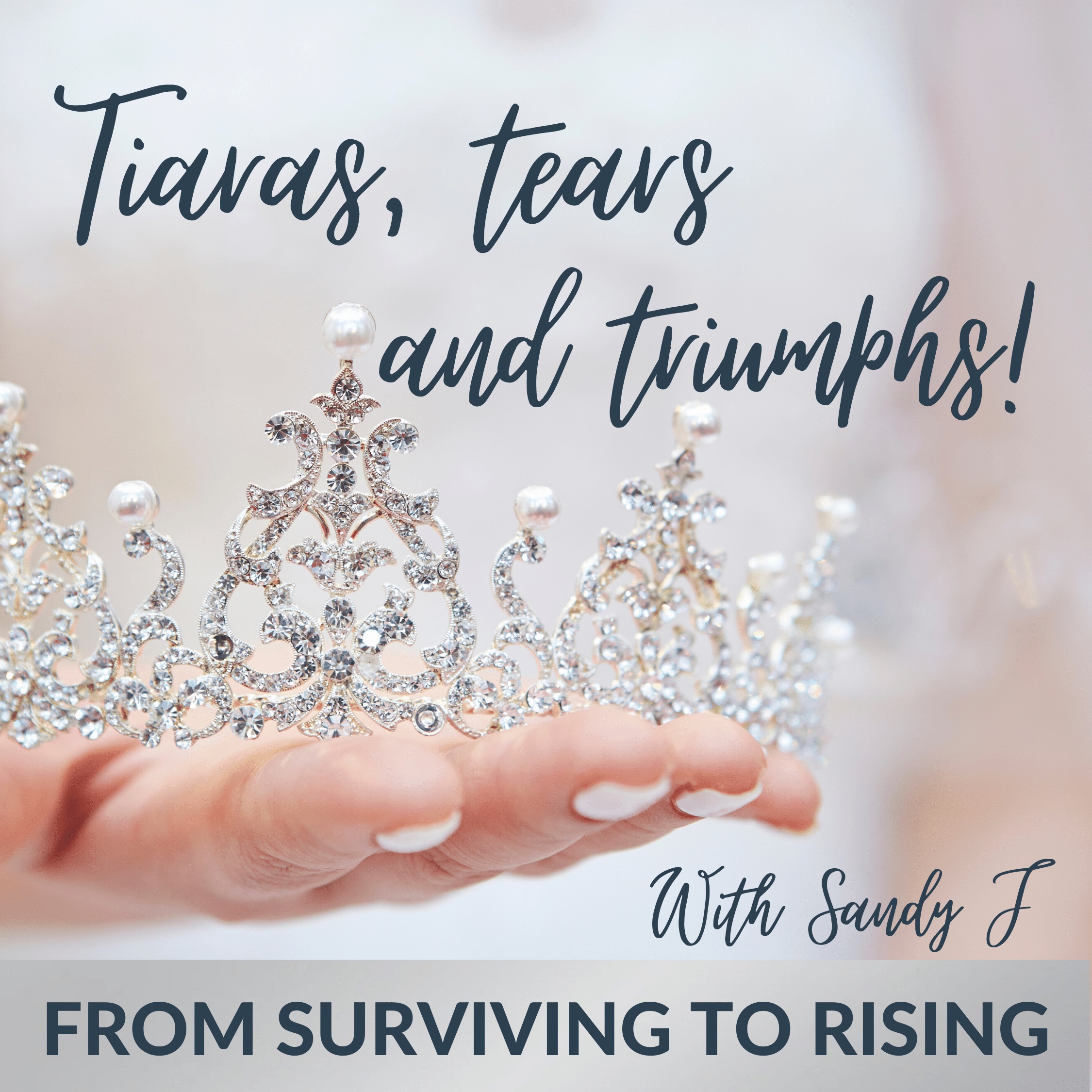 EPISODE NOTES FOR THE ROSALINE NTERVIEW
LEARNING TO LET THE FEAR BOUNCE WITH PTSD
On today's show I have a survivor who is speaking on air for the first time about her experiences and what she has learnt as a survivor of an abusive relationship.
It takes great courage to speak about our experiences with abuse and for many different reasons many victims and survivors of abuse choose never to speak about the things they have endured.
But Rosaline decided to accept my offer to come onto the podcast as a guest because she wants others to be inspired by her message to use your voice to reach out and get the support to help you be ok.
Tune in to hear her quiet heartfelt wisdom.
Remember that every day is a new day and a new opportunity to move in the direction of your dreams. Every day is a clean slate to start fresh.
So, hang in there and keep striving to regain your personal power.
For anyone interested in getting some coaching support or energetic healing to help heal your life and get your life back on track, please contact me.
I work online via zoom face to face calls, which allows you the flexibility to work with me wherever you happen to be located and wherever you are comfortable to have private confidential conversations.
If you would love to get unstuck and know deep down you will achieve far more by getting the support of a transformational coach, I would love to help you get your life back on the right track.
If you want to fast track your journey to triumph over your trials, click this link 
Here are the top tips of today's episode:
In life some things are in our control and some things that happen to us are not in our control, and what our aim can be is when life feels unmanageable is to do our best to to manage our responsibilities to the best of our abilities.
As women we are strong and we feel we have to have it all together all of the time, but when we are faced with challenges and life gets messy, it is good to remember that there is real strength in seeking support. Remember the age old saying "Many hands make light work". We can accomplish more with the right support.
To keep as much of your power when you are going through tough times, try to see the difference between the things that are in your control and the things that are not. This way you can focus your energy on the things that are in your control and detach from the things which are not, helping you to conserve your energy for the things which will make a difference to you and your situation.
When you feel you have the ability to control some aspects of your life this can give you the peace and the strength and the hope to keep going in challenging times. So try and focus on anything, no matter how small that is still within your control.
When looking for someone to support you in what you are going through, find a confidante who has experience with what you are going through, who can relate and understand, and can help you work out the steps you need to take to navigate a way through to the other side.
You can measure the value of what someone else is pouring into your life by the strength that you gain from their support. You may find that someone who is only able to give you pity leaves you feeling as powerless as ever. Whereas someone who shows you understanding and is able to ask you the right questions to help you discover the answers inside yourself leaves you feeling strong and optimistic about facing your challenges.
Your subconscious mind is led by your emotions and when you are feeling scared and depressed, your subconscious mind responds to this and you continue to flounder and feel disempowered. With a strong mindset on what you want instead of what you have, and the right strategies to change what your subconscious mind is trained to believe from your experiences, you can rise above your challenges and create a path to take you to where you want to go.
Change does not happen instantaneously, it is a process and the more we accept this and allow ourselves time for changes to manifest in our lives the more we allow the flow of good and new opportunities to appear in our lives.
Fear can protect you and it can hold you back from taking action to take back your power. This is a great time to reach out for support to help you identify the things that will help you navigate a path to safety and to freedom and to clarify what is real and perceived fear in your life and your situation. 
Try practising mindfulness and guided meditation to help you find a place of calm which will help you to make reasoned choices about making changes which will help you and the situation you are in.
It is important to find the courage to use your voice to reach out and ask for help. Even though fear of what other people may think about you may be making you feel too vulnerable to speak about the challenges you are going through, it is so important to push past those feelings and reach out and get help. If you feel too afraid to speak to people who are close to you, speak to an online domestic violence counselling service, or speak to your dr, or speak to the police, or speak to someone like me. I offer a call with no charge, my gift to those who would like me help, so that nothing will stand in the way of anyone reaching out and getting support. 
When you don't have strength yourself, know your go to's for strength, whether that is talking to a trusted friend, or your your faith, or your children. Use those things to draw strength from to persevere in challenging times. 
To step back into your power engage in the healing relationship with yourself. Give yourself back the value in yourself that you truly deserve and your life and choices for your highest good will become more clear.
Its easy to blame yourself for some of the things that have happened to you in your life, but this is the time to understand that our mistakes are opportunities for our growth and our own healing. 
Learning to love yourself will give you the freedom to make choices in line with your highest good and lead you to a life you love.
I hope this interview inspires you to rise and shine.
Subscribe. Enjoy. Share. Sending love and light, Sandy J
CAUTION: If you feel unsafe at any time please STOP LISTENING. You can come back anytime you are in a safe place to listen to the rest of the Podcast. YOUR SAFETY is the most important thing to consider.
If you are in immediate DANGER call the Police.
NOTE OF ENCOURAGEMENT: If you are struggling with your metal health please reach out for support with some form of counselling, therapy, or coaching.  If you don't know where to start to find a counsellor, a good place to start is to talk to your Doctor. There are also many online counselling supports now available. If the Support Person is not a good fit for you, try another and another, until you have one that is the right fit for you. And don't forget, I help women to heal and grow, and help them to meet their challenges head on, to move towards a life they love. 
BEFORE YOU GO….
If you listen to the Podcast and you like it, please SUBSCRIBE, you will automatically be updated with new episodes as soon as they are available.
If you like the episode, please leave a REVIEW for other people to know that this has value.
If you know of anyone you think this Podcast might help, please SHARE it.
To get a COMPLIMENTARY DISCOVER CALL, click this link 
To get an ENERGETIC HEALING session with me, click this link 
To get a ONE on ONE COACHING DISCOVER CALL with Sandy, click this link 
Come join us to be a part of the Private Rise Up with Tiaras Tears and Triumphs Facebook Group click this link
Until next time, stay well and stay safe.
Sending you love, light, peace and joy,
Sandy J