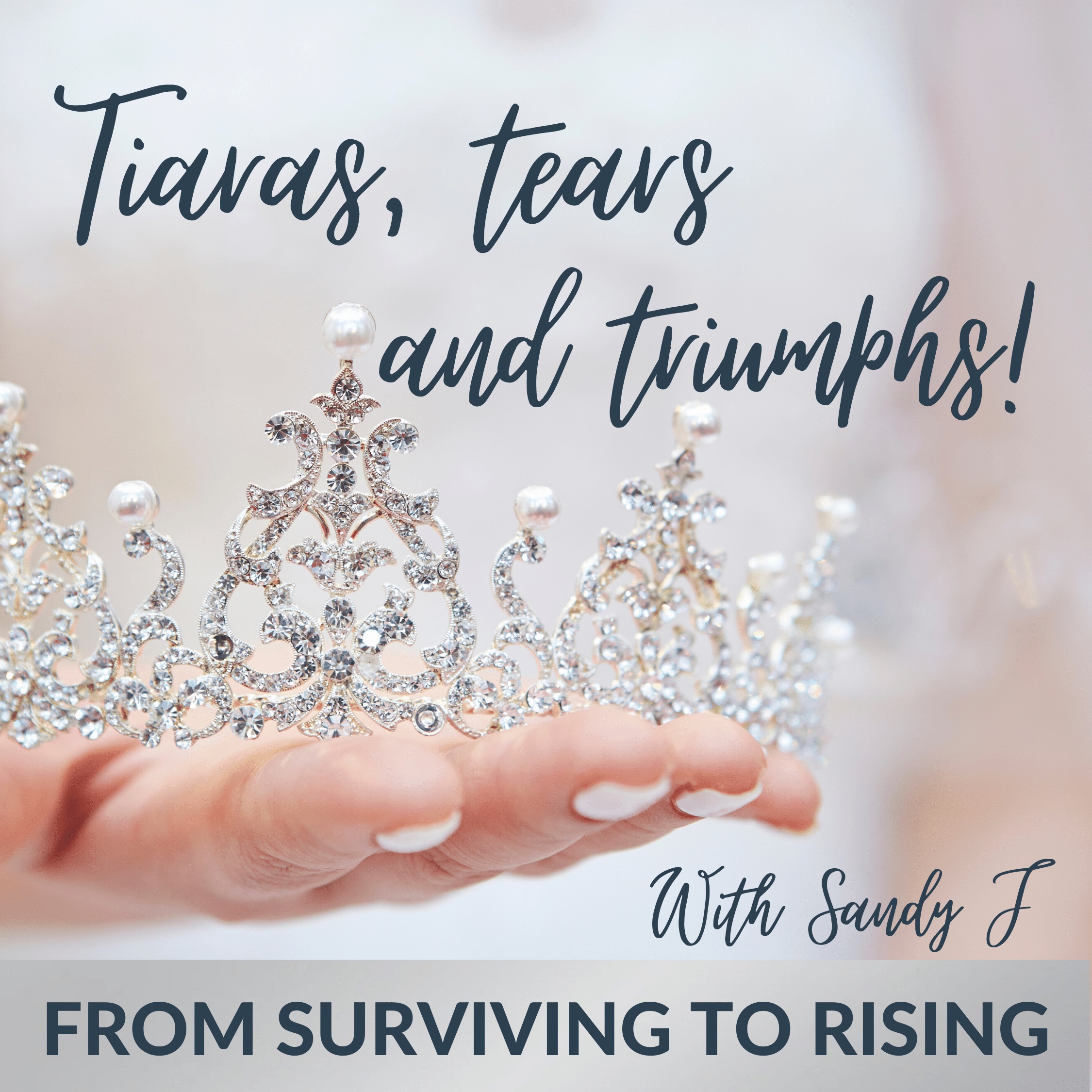 EPISODE NOTES FOR THE KIM LENGLING INTERVIEW
LEARNING TO LET THE FEAR BOUNCE WITH PTSD
On today's show I have a survivor who is on a similar path to my own, Kim Lengling, who is   using her words and her voice to give other victims and survivors hope for a life on the other side of abuse.  
As someone who lives with PTSD, she found that writing and sharing her story helps to lift some of the weight of memories, but also gives an opportunity for others who hear her story to be able to resonate with it.
Her hope is that spark of light that she shines using her voice and her words can provide that hope that is needed, to realize others going through similar challenges are not alone.
And at the heart of it, for others to realize they are worthy and beautiful and strong.
Residing in Pennsylvania, USA, Kim Lengling is the mother to a grown daughter and her rescue dog, Dexter.
She is a published co-author of three collaborative books and the sole author a book to be released this year entitle Imperfect Masterpiece.
Additionally, she is the lead author and coordinator of a collaborative 3-book series titled When Grace Found Me, with Volume One recently released in December of 2020 and Volume Two to be released in late Spring.
With empathy and emotion, she has been writing since 2004 showcasing her faith, nature, love of rescue animals, and living with PTSD.
She is the host of the newly launched podcast Let Fear Bounce, inviting guests to share their stories of letting go of or working through fears and shedding light and hope to her listeners.
In this episode we talk about the journey of people who experience trauma and ways in which they might be able to get onto a path of healing from the trauma.
Remember that every day is a new day and a new opportunity to move in the direction of your dreams. Every day is a clean slate to start fresh.
So, hang in there and keep striving to regain your personal power.
For anyone interested in getting some coaching support or energetic healing to help heal your life and get your life back on track, please contact me.
I work online via zoom face to face calls, which allows you the flexibility to work with me wherever you happen to be located and wherever you are comfortable to have private confidential conversations.
If you would love to get unstuck and know deep down you will achieve far more by getting the support of a transformational coach, I would love to help you get your life back on the right track.
If you want to fast track your journey to triumph over your trials, click this link 
Here are the top tips of today's episode:
When you are hurt it is a natural response to build a wall of defence, but the wall of defence that you build when you experience trauma will crack at some point, to enable you to release and let go of the weight of what you have been carrying.
Sometimes you have to break to bloom into who you are actually supposed to be.
Breaking points can be pivotal turning points in life to change direction to be able to transform.
Making a conscious choice not to identify as a victim can help you become more empowered.
You don't have to be alone, with all the pain and brokenness that you might be feeling. There are other's who can relate to what you are thinking and feeling in those moments who can and want to help and support you.
Claim what you want to be, do and so for you and your life. If you want to be a source of inspiration for others claim it. If you want to be a source of positivity claim it. If you want to be a source of laughter and joy for others, claim it.
You are not meant to live in the dark, you are strong and beautiful. There is strength and beauty in the storm.
Don't try and calm the storm, try to calm yourself until the storm passes.
It is easy to become a victim of circumstance when someone else has been exerting control over you and your life, and it is easy to lose sight that you still have the ability to choose something else for yourself and for your life.
Learning how to let go of things which do not serve us and our highest good can take a long time. When we realise that we are giving all of our anger and frustration power, we can make a conscious choice to let go of that and choose something positive instead.
We are all good at wearing a mask, but there is power in taking your mask off and sharing your most vulnerable self with someone you trust.
You are a warrior, warriors wear armour, so remember to put your armour on to protect you from adversity. This might mean knowing when to say NO to a circumstance, a mindset, or a person.
Try not be hard on yourself, try to be kind to yourself.
You are worthy, you are worth receiving help and support, you are worth being treated well, you are worthy of love, you are worthy of self-care and self-love.
To find a place of peace, get out into nature as much as possible, it will do wonders for your nervous system. There is beauty and peace to be found in nature.
There is a difference between real and perceived fear and when you suffer from PTSD it can be difficult to discern between what is real and what is perceived fear. I have some strategies to help with this which I will go into more depth on in another episode, but if you struggle with this you could try writing a list of your fears and put a number between 0 – 10 with 0 being no foundation for the fear and 10 being the fear being very real. Rate your fears in black and white and it will help you differentiate between what is real and what is perceived, and it will help you focus your energy on the real threats and stop worrying about those which are nothing more than a perception.
Writing is cathartic and empowering. There are great benefits to journaling for those who suffer from PTSD. Don't worry about what comes out, just allow words to come out of you onto paper. It is an exercise in allowing things which might otherwise be repressed to come out. In time your journal can also show a path of awareness, growth and development.
You are stronger than you think.
If you would like to contact Kim Lengling please use the links below.
Website: https://www.kimlenglingauthor.com/
Facebook: https://www.facebook.com/kim.lengling
Linkedin:  http://www.linkedin.com/in/kimberlylengling/
I hope this interview inspires you to rise and shine.
Subscribe. Enjoy. Share. Sending love and light, Sandy J
CAUTION: If you feel unsafe at any time please STOP LISTENING. You can come back anytime you are in a safe place to listen to the rest of the Podcast. YOUR SAFETY is the most important thing to consider.
If you are in immediate DANGER call the Police.
NOTE OF ENCOURAGEMENT: If you are struggling with your metal health please reach out for support with some form of counselling, therapy, or coaching.  If you don't know where to start to find a counsellor, a good place to start is to talk to your Doctor. There are also many online counselling supports now available. If the Support Person is not a good fit for you, try another and another, until you have one that is the right fit for you. And don't forget, I help women to heal and grow, and help them to meet their challenges head on, to move towards a life they love. 
BEFORE YOU GO….
If you listen to the Podcast and you like it, please SUBSCRIBE, you will automatically be updated with new episodes as soon as they are available.
If you like the episode, please leave a REVIEW for other people to know that this has value.
If you know of anyone you think this Podcast might help, please SHARE it.
To get a COMPLIMENTARY DISCOVER CALL, click this link 
To get an ENERGETIC HEALING session with me, click this link 
To get a ONE on ONE COACHING DISCOVER CALL with Sandy, click this link 
Come join us to be a part of the Private Rise Up with Tiaras Tears and Triumphs Facebook Group click this link
Until next time, stay well and stay safe.
Sending you love, light, peace and joy,
Sandy J