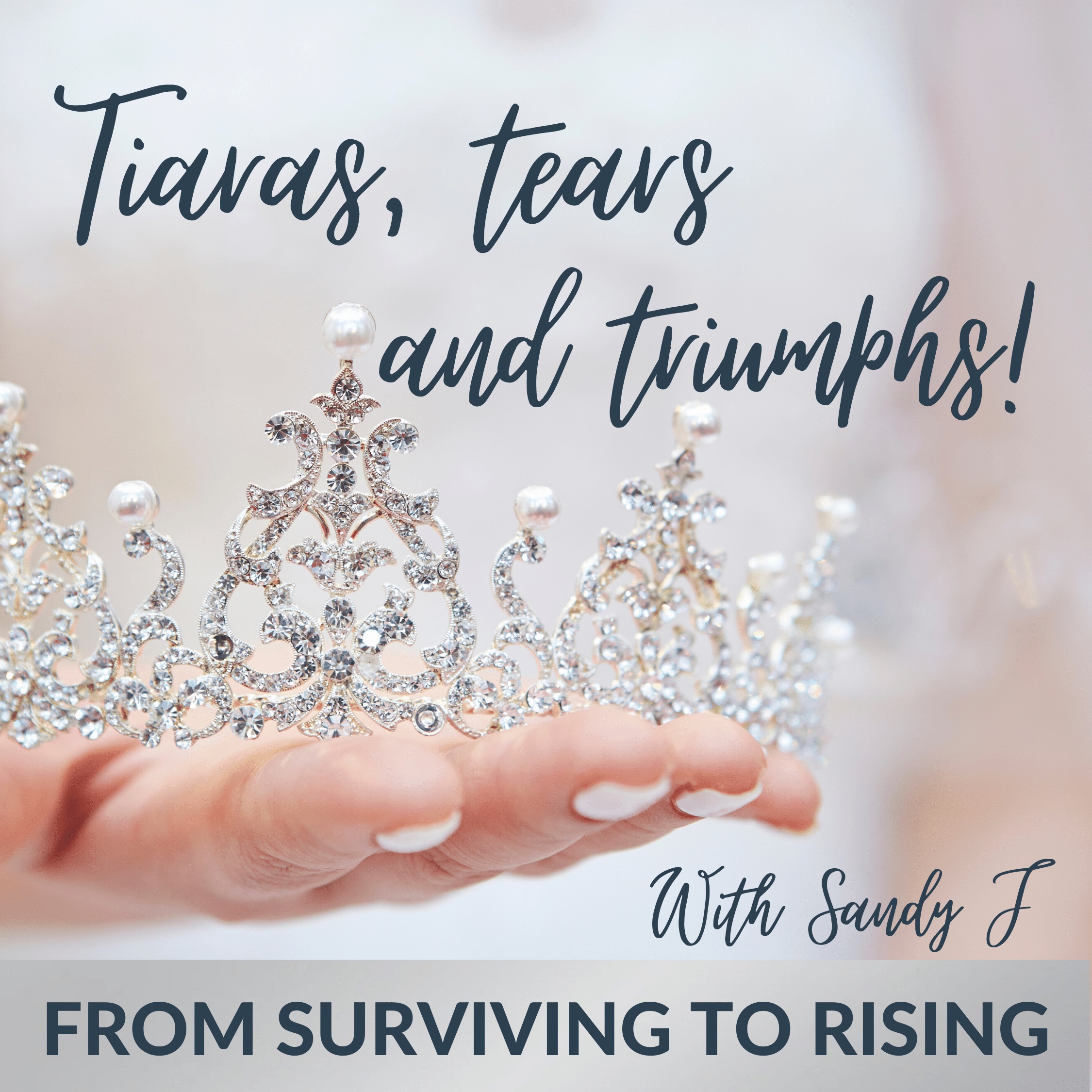 EPISODE NOTES FOR THE NAOMI BROWN INTERVIEW
WHY VICTIMS CAN'T HEAL WHEN THEY STAY IN THE PLACE THAT KEEPS THEM SICK
On today's show I have the lovely Naomi Brown, a survivor, turned thriver from Endinburgh, Scotland.
Naomi has turned her pain from breaking free from a history of abuse into her purpose, as she now works as a transformative coach and a business consultant. 
She is doing a remarkable job on her healing and recovery journey and now hosts her own Facebook Live - Warrior Wednesdays.
In every interview I ask the guest what the title Tiaras Tears and Triumphs means to them, and every answer has it's own take on this question.
Naomis is a wonderful perception of what this means for her, she is a true warrior in every sense of the word. When she answered this question about the podcast title, part of what she said was that when she was young, she felt like a princess waiting to be rescued by a knight in shining armour. Now she is a woman she feels that she has reached the understanding that if she needs rescuing, she needs to come to her own aid and not wait around to be rescued by someone else.
She realises that she holds the power, she needs to change her life and her destiny. 
I absolutely loved this conversation and apologise for some glitches with the sound. 
Wherever you are on your journey, none of what is contained in this message is to here to make you feel bad about yourself, there are no judgments.
This podcast aims to remind you of how precious you are and that you deserve to feel safe, secure, and loved in a relationship.
Remember that every day is a new day and a new opportunity to move in the direction of your dreams. Every day is a clean slate to start fresh.
So, hang in there and keep striving to regain your personal power.
For anyone interested in getting some coaching support or energetic healing to help heal your life and get your life back on track, please contact me.
I work online via zoom face to face calls, which allows you the flexibility to work with me wherever you happen to be located and wherever you are comfortable to have private confidential conversations.
If you would love to get unstuck and know deep down you will achieve far more by getting the support of a transformational coach, I would love to help you get your life back on the right track.
If you want to fast track your journey to triumph over your trials, click this link 
Here are the top tips of today's episode:
 Life is a not a linear journey, there will be ups and downs and twists and turns along the way
You cannot heal in the place that keeps you sick, you may reach a plateau, but the toxic person will keep holding you back from healing.
Your plan of escape from the cycle of abuse needs to be suited to you and not anyone else
Take your power from your purpose. The purpose you have to have a good life, to be treated with respect and dignity can be the power which helps give you the strength and determination to get through your challenges.
Recovery is a process, it might be hard right now, but one day it gets easier and easier.
You just need to be yourself in life, not something someone else tells you they think you need to be.
When your trust has been broken it is good to remember to treat everyone by their own merit. Not everyone is a good egg or a bad egg.
Recovery can truly be found when we grasp that life is not happening to us, but it is happening for us.
Listen to your gut, especially when our gut has been feeling uneasy for awhile. You may be have listening to your heart and ignoring that uneasy feeling in your gut. This is the time to speak to someone who works in domestic abuse and get some advice.
Needing support with mental health is a very normal and often necessary part of the healing journey for victims.
It is important to engage fully in our healing journey, to go to the sources of pain and allow the emotions out, as well as focusing on being positive.
You may be triggered by things that other people may do, It is good to understand and acknowledge when you are triggered and know that this is part of your healing journey.
 
If you would like to contact Naomi Brown please use the links below.
Landing Page: https://instabio.cc/Harmonybusinessandlife?fbclid=IwAR3-VymRBoIQNpjfVlV9G0copgH25-YcWZ_fSOSgUvC__9FvwVSYHlHDH7s
Facebook: https://www.facebook.com/harmonybusinessandlifesolutions/@ Richie Cloete
Instagram: https://www.instagram.com/harmonybusinessandlifecoaching/?
I hope this interview inspires you to rise and shine.
Subscribe. Enjoy. Share. Sending love and light, Sandy J
CAUTION: If you feel unsafe at any time please STOP LISTENING. You can come back anytime you are in a safe place to listen to the rest of the Podcast. YOUR SAFETY is the most important thing to consider.
If you are in immediate DANGER call the Police.
NOTE OF ENCOURAGEMENT: If you are struggling with your metal health please reach out for support with some form of counselling, therapy, or coaching.  If you don't know where to start to find a counsellor, a good place to start is to talk to your Doctor. There are also many online counselling supports now available. If the Support Person is not a good fit for you, try another and another, until you have one that is the right fit for you. And don't forget, I help women to heal and grow, and help them to meet their challenges head on, to move towards a life they love. 
BEFORE YOU GO….
If you listen to the Podcast and you like it, please SUBSCRIBE, you will automatically be updated with new episodes as soon as they are available.
If you like the episode, please leave a REVIEW for other people to know that this has value.
If you know of anyone you think this Podcast might help, please SHARE it.
To get a COMPLIMENTARY DISCOVER CALL, click this link 
To get an ENERGETIC HEALING session with me, click this link 
To get a ONE on ONE COACHING CONSULTING session with me, click this link 
Come join us to be a part of the Private Rise Up with Tiaras Tears and Triumphs Facebook Group click this link
Until next time, stay well and stay safe.
Sending you love, light, peace and joy,
Sandy J